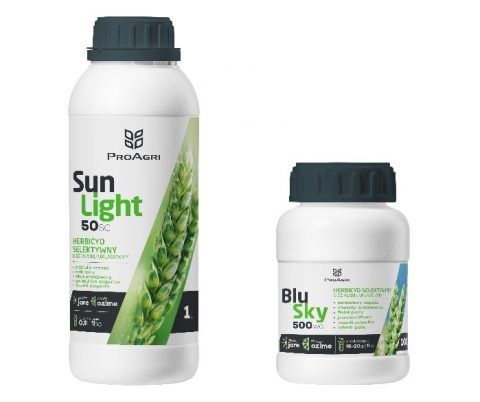 Herbicydowa ochrona roślin
W herbicydowej ochronie roślin nie ma pojedynczej substancji czynnej, która ograniczałaby zachwaszczenie w zakresie większości najczęściej występujących chwastów. Całą sztuką jest umiejętne połączenie substancji tak, aby uzupełniały się działaniem, tworzyły synergizm przy zachowaniu pełni bezpieczeństwa w stosunku do rośliny uprawnej.
Mieszanina zbiornikowa preparatów SunLight 50 SC i BluSky 500 WG uzupełnia się w działaniu pod kątem spektrum zwalczanych chwastów dwuliściennych. Dzięki temu zyskujemy bardzo szeroką ochronę herbicydową na uciążliwe chwasty w zbożach. W przypadku połączenia średniej wrażliwości dwóch związków, w końcowym efekcie chwast może wykazywać pełną wrażliwość. Ponadto w wyniku łącznego zastosowania można uzyskać tzw. synergizm, czyli wrażliwość, której nie stwierdzono stosując substancje czynne osobno. Ostatnim efektem jaki można uzyskać to skuteczność reprezentowana przez jeden składnik stosowany w takiej samej dawce solo jak  i w mieszaninie.
Szeroka rejestracja obu preparatów pozwala na zastosowanie ich w zbożach ozimych: pszenica, jęczmień, żyto i pszenżyto oraz w jarej pszenicy i jęczmieniu. Przy zastosowaniu we wcześniejszych fazach rozwojowych np. w zbożach jarych od 3 – go liścia ważnym parametrem działania będzie  wnikanie metsulfuronu również przez korzenie chwastów co pozwoli na kontrolowanie tych wschodzących.
Wrażliwość poszczególnych chwastów na preparaty
BluSky 500 WG i SunLight 50 SC oraz ich sumaryczna skuteczność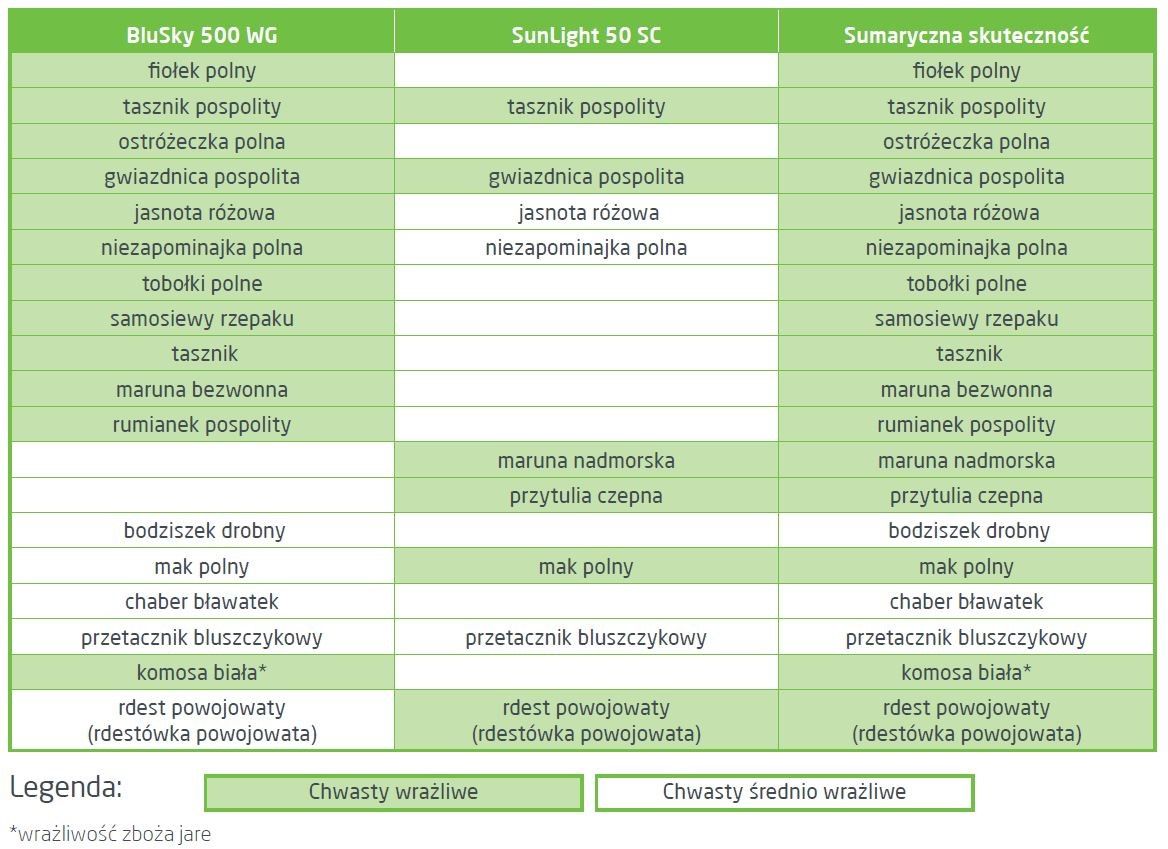 Współdziałanie trzech substancji to uzupełnienie się na poziomie zwalczanych gatunków chwastów dwuliściennych, tempa i warunków działania. Środki ochrony roślin SUNLIGHT 50 SC i BLUSKY 500 WG to "Najlepszy duet pod słońcem" właśnie po to, aby nie było cienia chwastów.